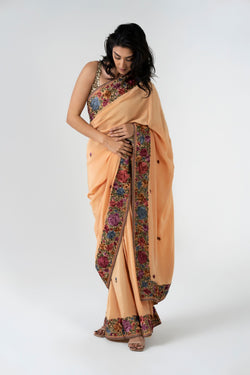 Crepe georgette with a hand embroidered gara parsi border. Comes with matching blouse piece.
About the Embroidery - 
Parsi gara is an art form that evolved  from 19th century parsi traders traveling to China and bringing back a beautiful silk fabric called gaaj or paaj. The motifs are influenced by the flora, birds, fruits, and even scenes and stories of Chinese origin like the bridges, pagodas, boatmen and shrines. It's like an entire story woven onto a piece of clothing. There are various techniques like the Satin stitch, crewel stitch, stem stitch and French knots used to create these intricate masterpieces by hand. Garas were traditionally seen in royal colours like purple, dark green, wine, orange-red, maroon, black and magenta. For a Parsi woman, it is mandatory to wear a Gara for any one of the pre-wedding functions. To date, it is worn in the traditional style wherein the head is covered. The saris are considered heirlooms in the family and are fiercely protected by the womenfolk – just like an expensive piece of jewelry.
USPS Priority Mail 2-3 Day Shipping is $15. If the saree can't fit into a priority mail medium flat rate, then additional charges will apply as shipping charges will be based on the weight of the package. 
International Shipping starting at $55. Typically delivery will take 6-10 business days. There are faster options we can use. Please contact us at pia@piakaghar.com if you need expedited delivery. Additional charges will apply. 
 Note:*
1. Pia Ka Ghar is not responsible for customs, duties or tax fees incurred on delivery.
2. Due to the handwoven nature of our products, there may be marks, etc.. on the products. These are not defects. This is normal in hand made products and the identifying characteristic of something made by hand.   
3. Goods once sold will not be taken back.
4. Delivery timelines are approximations and timely delivery is depending on the courier service. 
5. If you have an urgent deadline, you need to let us know via at least two methods of communication: 1. email 2. text 3. notes in web order.   
6. our bespoke policies and things you should know before ordering bespoken 
Our response to COVID-19
During this difficult time where the pandemic is changing life as we know it, Pia Ka Ghar is continuing to deliver orders to our clients. We appreciate your support. Please contact us if you have any questions re. delivery.
Color Accuracy Disclaimer
Due to the many variations in monitors and browsers, the color of products may appear different on different monitors. Computer monitors are not all calibrated equally and color reproduction on the Internet is not precise. Since it is not possible to guarantee our online colors will look the same on all computers, we do not guarantee that what you see accurately portrays the color of the actual product. We have made every effort to display as accurately as possible the colors and images of the products we carry and that appear on the website, but cannot guarantee that what you see is an exact representation.